Tattoo, the novella by Michelle Rene that Publisher's Weekly called "beautifully haunting,"  comes out next Wednesday! To celebrate, and say "thank you" to all the people who pre-order the book, we've got some temporary tattoos to give away.
Here's the design, which was created by the author herself:
Here's what the tattoo looks like when applied (in a spot that I belatedly realized made it really hard to take a good picture):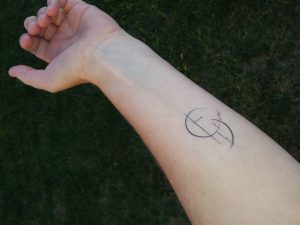 And here's how you can get your own tattoo:
Order Tattoo by the end of the day March 10 and email info@annorlundaenterprises.com with proof of purchase and your mailing address. If you already ordered Tattoo, that's great: just email us with your proof of purchase and mailing address. If you no longer have your proof of purchase, wait for the book to be delivered and email us a picture of that, a short note explaining that you don't have proof of purchase, and your mailing address and we'll send your tattoo.
OR
Join the Annorlunda mailing list or sign up for Inbox Stories by the end of the day March 10, and email info@annorlundaenterprises.com with your mailing address. If you email from an email address different from the one you use for the newsletter, be sure to give us the email you use for the newsletter, too. (Yes, existing newsletter readers can get a tattoo, too: Just email with a mailing address!)
We can send a tattoo with black ink or white ink. We'll default to black ink, but if you'd prefer white ink just note that in your email.
But wait… there's more! We will also be giving away a tote bag with the same design on it. We'll select the winner at random from the list of people who send us mailing addresses to get a tattoo. You can also enter this giveaway by posting about Tattoo on either Twitter or Facebook and tagging us: @AnnorlundaInc on Twitter, @annorlundabooks on Facebook. Yes, if you post on both Twitter and Facebook, you'll be entered in the drawing twice (but only once per account!) and if you pre-order the book AND post on social media, we'll enter you once for the pre-order and once for each social media account. Posts made before the end of the day on March 10 will count in the drawing.
Online pre-order links can be found on the Tattoo home page. Of course, we'll also accept pre-orders made through your favorite book store!