What if gods could retire?
What if sometimes, humans helped those gods along to retirement?
What if there was an entire government bureaucracy that helped gods retire?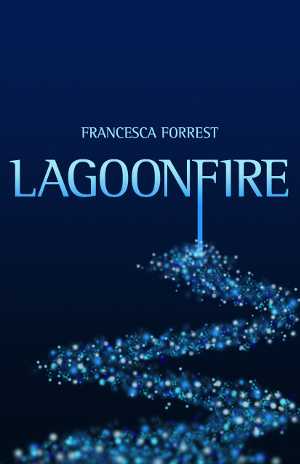 That is the world of the Polity, the setting for Francesca Forrest's new novella Lagoonfire, which is out today!
Decommissioner Thirty-Seven, the enigmatic protagonist from The Inconvenient God, returns for a new adventure, this time investigating whether her earlier botched decommissioning of Laloran-morna, the former god of warm ocean waves, is the cause of a seawater incursion at a new development in his old stomping grounds. Her investigation brings her face-to-face with a past she'd rather forget and stirs up trouble she'd rather avoid. Can she navigate it all without betraying her friends or losing the life she's built for herself?
Publishers Weekly says "Regret, perseverance, and love drive Forrest's sparkling second Tales of the Polity fantasy…. This evocative and ultimately uplifting story is sure to please."
Get your copy now and see for yourself! You can buy the ebook:
Or the paperback:
The ebook is also available for libraries to purchase via Overdrive or Baker and Taylor.
You can also add Lagoonfire to your "to-read" shelf on GoodReads. And there is even a launch event you can sign up for: C.S.E. Cooney is hosting a reading and Q&A with Francesca Forrest on March 6. Sign up now!