Arctic Adagio, DJ Cockburn's mystery novelette set in a dystopic but all-too-believable near future, is now available for pre-order. Rex Harme is a former police detective whose current job is to protect the very wealthy people who have taken to living on a luxury ship rather than submit to any nation's jurisdiction. When one of the super-rich is thrown into the Arctic Ocean, Harme is faced with the dilemma of how to catch a murderer when the suspects own the law.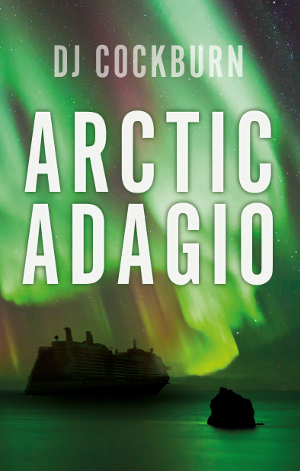 Release day is May 29. You can pre-order the ebook now:
There will also be a paperback edition available on May 29.
We are also running a great promo for Arctic Adagio! We published an earlier novelette by DJ Cockburn called Caresaway. It is also set in a somewhat dystopic but all-too-believable near future. In that future, a dedicated scientist works years to cure depression… and succeeds. But the medicine he discovered comes with a terrible cost. Years later, his wonder drug has helped people with depression. But has it also helped destroy the world economy? And what has it done to him?
One of the things I love about DJ Cockburn's novelettes is the way the excellent storytelling and believable characters pull me through his stories. Only after I finish the book do I realize the implications for our own time – these books will leave you thinking, but only after telling you a really great story!
I want more people to read both of these books, so through June 21, if you send us a picture of your copy of Arctic Adagio (ebook or paperback) or of the receipt for your purchase (be sure to blur out any credit card info!) we will send you a coupon code that will allow you to get an ebook copy of Caresaway for FREE! The coupon code will be for our GumRoad store. When you buy the ebook there, you get the mobi (Kindle), ePUB, and PDF editions, so you'll be able to read it on any ereader or print out the PDF and read on paper if you prefer.
Here are the details: You can share your picture on social media or email it to info@annorlundaenterprises.com. If you share on social media, you can either tag Annorlunda directly (@AnnorlundaInc on Twitter, @annorlundabooks on Facebook) or screenshot the post. Then DM or email us, and we'll reply with the coupon code.
If you email us a picture, you are agreeing that we can share the picture on our social media feeds. If you want to remain anonymous, just tell us how we can refer to you in the post (e.g., "a reader in Ohio" or "a sci-fi fan" or something like that). Otherwise, we will assume it is OK to use your first name or your social media handle to refer to you.
If you've already read Caresaway, you can still participate! Your promo code is transferable, so you can pass on the free book to a friend.
We love both of these stories and we think you'll love them both, too! Don't miss this chance to get two great novelettes for $3!